Aspen Valley Ranch Fertigation Project
Published: February 19, 2019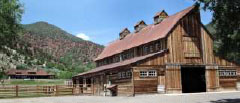 We completed the installation of a Turf Feeding fertigation system on the 800 acre Aspen Valley Ranch, near Aspen, Colorado in February 2019.
While there, I met two outstanding professionals.
Jason Jaynes, a Principal at DHM Design, and his design group has taken a working ranch to a sustainable estate that reflects the ranch history and embraces the ecology of Aspen Valley. (https://dhmdesign.com/#7)
Tom Friel, the owner of Roaring Fork Landscapes, implements natural values into landscapes in Western Colorado, and has the vision and the passion for the Colorado Mountains.
(https://www.roaringforklandscapes.com/)
We installed fertigation on the two large pump stations that irrigate the landscapes, trees and agriculture areas of the ranch.
The ranch project has been underway for several years, managed by Jason and his design team. They brought in an agronomist to develop a nutrient program for the landscape and trees. Ken DiPaolo, with HydroSystems-KDI , did the irrigation design for the ranch and selected our fertigation to connect to the two large irrigation pump stations for nutrient delivery.
Tom and his crew did great work on the installation and placement of the underground tanks, and will take part in the fertigation management with Anthony Vitari, the Aspen Valley Ranch Manager. Tom is our new distributor for the Western Slope of Colorado.
This is another example of how well fertigation can fit into large irrigated landscapes in rural areas.
Download More Information (PDF, originally drafted February 2019)