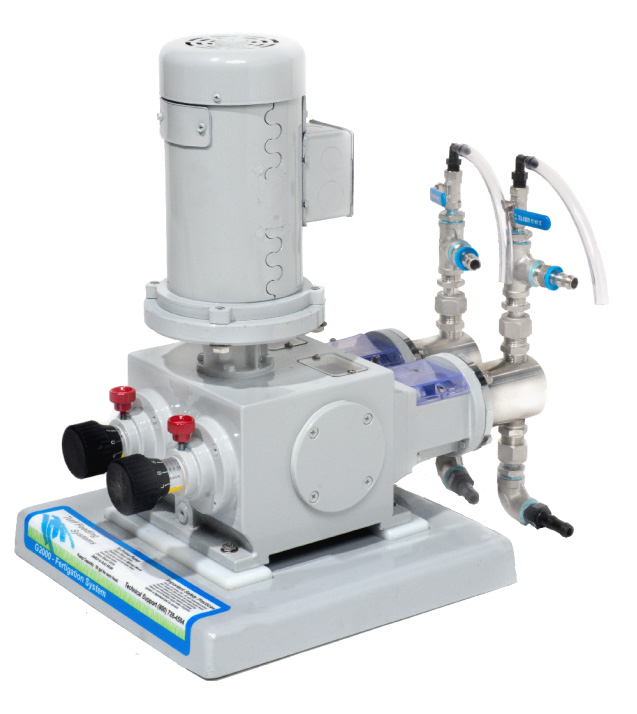 This new AG2500 launches a next generation in fertigation systems. It brings together new pumps with accuracy and durability unseen until now. We introduce precision industrial plunger pumps that have the best features that improve dependability and ease of service.
Accurate stroke adjustment to individual percent setting. This will give you accurate settings and repeatability. Can be used to adjust EC.
The pump valves include swivels and union disconnect fittings. The pump discharge and suction can swivel left or right depending on the the installation setup.
Service is important and all the valves have a swivel disconnect to access the cartridge valves in minutes.
The valves have teflon seals and don't use teflon tape or thread sealer. It's clean and simple to remove the pump check valves in minutes. The cartridge valves can be cleaned and serviced in minutes to get the fertigation system back online and no need to send for replacement check valves. This reduces maintenance costs and down time.
The systems uses high quality industrial Push-On hose, that doesn't use hose clamps. It has a 300 psi working pressure. This system uses only the best components, fittings and hoses.
Power can cover all voltages and Hz requirements.
Pumps can be designed for all liquid products with standard 316ss heads, valves and fittings as well as Alloy 20.
This is a constant rate injector that can start and stop with a manual switch or be setup with a relay start/stop as an option.
The system includes all the industrial hoses, fittings and connections to install it to the irrigation line and tank.