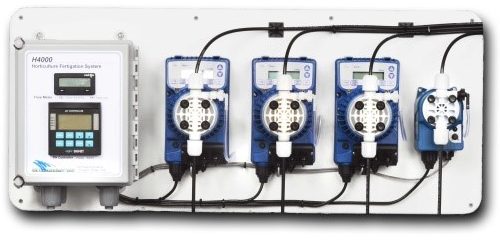 The H1000 through H6000 models are designed for horticulture and hydroponic applications.  These incorporate one or up to six pumps together in a fertigation system to inject individual liquid products into the irrigation.  Each pump is dividedly adjustable and can be controlled by flow, EC or PH.  This fertigation system offers many capacities, precision and is affordable for any growing system.
H4000
This horticulture four injector system is designed to accurately inject three liquid products into the irrigation for any green house or nursery application. The start/stop function is setup to accept a 24 v AC signal from the irrigation controller master valve or pump start terminal.
The system can include a flow meter and a pH meter as an option.
The pump capacity is (4) four 4.5 gal/hr @ 80 psi