AG2500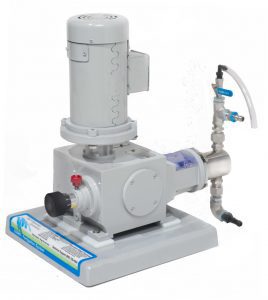 This line of Agriculture Fertigation systems are specifically designed for the AG market for durability and dependability. This AG 2500 is a dual head fertigation system.
Each system features high quality connections, hoses and components, as well as optional accessories like all-weather fiberglass enclosures and filters and spares kits.
The AG2500 Capacities range from dual 30 gal/hr (114 liters/hr) up to dual 300 gal/hr (1,180 liters/hr) for each head @ 60hz motor speed.
Reduce – Water, Fertilizer, Chemicals, Labor and Increase quality Capacities
Power can cover all voltages and hz requirements.
Pumps can be designed for all liquid products with standard 316ss heads, valves and fittings as well as Alloy 20.
This is a constant rate injector that can start and stop with a manual switch or be setup with a relay start/stop as an option.
The system includes all the industrial hoses, fittings and connections to install it to the irrigation line and tank.