L500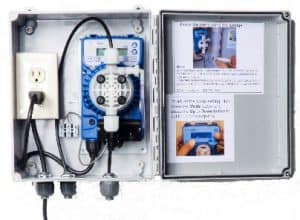 See Model Page
This proportional rate injector is designed to be used on sports field irrigation systems with unequal zones with varying flow rates and deliver consistent accurate PPM applications.
Fertigation delivers easy daily nutrient maintenance or fast labor free recovery from field damage by simply increasing the fertigation rate and pushing the plant growth then returning to the maintenance setting for consistent plant feeding and growth.
The system includes all the tubing, fittings and connections to install it to the irrigation line and tank.
Reduce – Water, Fertilizer, Chemicals, Labor and Increase quality Capacities
Specifications:
• L500A – .5gal/hr – ¼ to 2 acres
• L500B – 1.5gal/hr – 2 to 4 acres
• L500C – 3.0gal/hr – 4 to 7 acres